🌎日本語 
Numerical Simulations of Soft Ground with Elasto-viscoplastic Constitutive Model
Sand and soft clay layers are widely distributed in the coastal urban area and often suffered from ground settlement and liquefaction. In this research field, we developed numerical simulation code with an elasto-viscoplastic constitutive model to investigate the mechanical behavior of soft ground and applied to actual problems such as a long-term settlement of the ground under the Kansai international airport.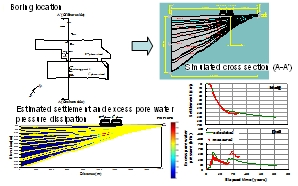 Geotechnical Contribution for the Preservation and Restoration of Ancient Tumulus and Masonry Structures
Historical monuments such as ancient tumulus/mound and masonry structures are weak against wind and rain, earthquakes, and damage caused by plants and animals and it is difficult to keep them intact for a long time. In this research field, we investigate the preservation and resto-ration methodologies of historical monuments to maintain their authenticity based on soil/rock engineering aspects.
Modeling Deformation Characteristics of Geomaterials from Micro to Macro
Geomaterial is a multi-phase mixture composed of soil, water, and air. It is important, therefore, to study micro-scopic changes in soil structures and phase interactions. We aim to clarify a link between the microscopic and mac-roscopic behaviors through experiments. Furthermore, we are developing analytical methods based on the physical origins to predict macroscopic geotechnical issues such as geohazards induced by rainfalls and earthquakes.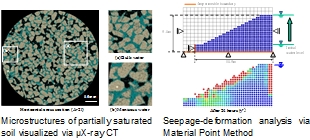 Modeling and visualization of underground structures and application to disaster assessment
It is usually difficult to observe ground except for the surface, although the deformation and failure of the ground are closely related to the underground structures. We have been studying on geophysical explorations that enable visualization of wide-area underground structures and 3D-modeling of the ground using boring database. The underground structures provided by these observations contribute to the numerical analysis and microzoning for disaster assessment such as evaluation of rainfall infiltration into earth structures and liquefaction mapping.